New Jersey's Ford Landscape Truck Headquarters
You're a landscaper and you've a crew and job that needs to get done. You need the right tools to get the job done right and efficiently so that you can move on to the next property and run a profitable business. Salerno Duane Commercial Trucks in Summit, NJ is the area's Landscape Truck experts. We've sold hundreds of customized Ford Chassis Cab models upfitted with a wide range of landscape bodies and dumps that fit each of our customers needs perfectly. We will work with you to find out what needs you have, what features are right and then we'll also be here for you in the future should you ever need us for repairs or a service loaner truck. Salerno Duane Landscape Truck Center - It's All About You!
Landscaper Rack Body Trucks
Versatility and functionality meet with our
Knapheide Landscaper Body upfits
. Want to transfer mulch, dirt, or sand into a wheelbarrow without spilling half of it? A metering gate can handle that. Load pallets of sod into the bed with wide side access doors perfect for the job. No matter if you need to haul or dump, the landscaper body can do it all. Our
Rugby Landscape Truck Bodies
are designed to meet the toughest standards, featuring a curbside swing-out door and rear barn doors over a drop down tailgate.
Landscaper Dump Body Trucks
Knapheide's Drop Side Landscape Truck Dump Bodies are a great dump body for our chassis cabs. These Dump Bodies are meant to haul anything from sand to asphalt. They are capable of hauling and dumping over 8.5 tons. With models that differ in side height, length, and yard capacity they have plenty of body configurations to meet your jobsite applications. Salerno Duane Commercial Trucks has different options on cab protectors, under body toolboxes, and hoists in order to help you customize your landscape truck Dump Body to be more effective for you.
Select Your Ford Chassis Cab for Landscape Truck Upfit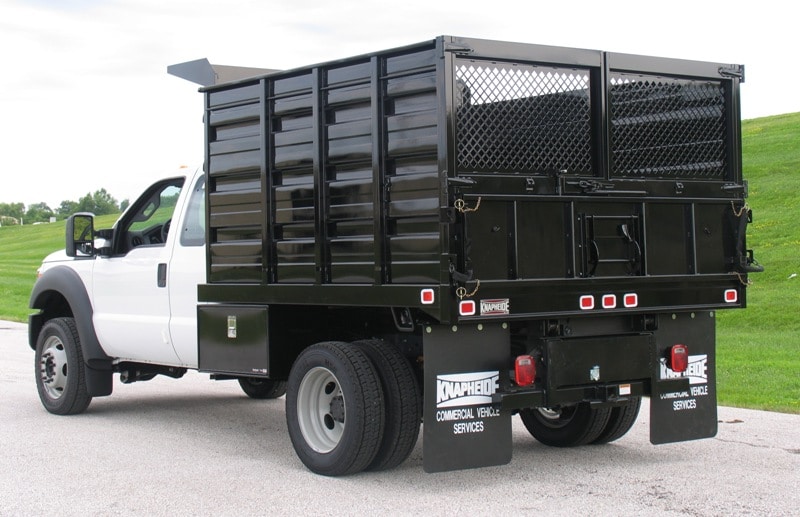 We've Got the Truck Bodies Every Landscape Company Needs
Knapheide Landscape Body 9 foot (PLB-090B) with Hoist (KH-1512SF-EE)
Knapheide Landscape Body 11 foot (PLB-110B) with Hoist
Knapheide Landscape Body 12 foot (PLB-120B-P) with Hoist
Rugby Landscape Body 9'6″, 12′, 14′, foot, 16 foot with up to 18 ton Hoist Dump
Rugby Uni-Body Landscaper 12′ and 14 foot lengths
Rugby Versa Rack Landscaper 9′, 12′, 14′ and 16 foot body length
Dejana Landscaper Bodies available in 9.5', 12', 14', and 16 foot lengths
Dejana Heavy Duty Stakeless Landscaper Bodies
Dejana Versa Rack 8-10 yard Dump Bodies
Dejana Solid Stake Platform Landscaper, Choice of 40", or 52" high
Configurations For Every Landscaper Use
Body lengths of 8′-12′, 14′ and 16 foot
Bulk Cargo Area
Side & Rear Cargo Doors
Lockable Tool Storage
Double-Acting Tailgate
Center Metering Gate
Dumping Hoist
Cab Shields
Pintle and Receiver Hitch Plates
Tailgate Bumpers
Chipper Cover
Two Rung Ladders

 


Knapheide Landscaper Bodies

Versatility and functionality meet with Knapheide's Landscape Truck Body. Their Landscaper Body was designed to do the jobs that many other landscaper bodies can't.




Rugby Landscape Truck Bodies

All Rugby Landscape Bodies are designed to meet the toughest standards. They feature a curbside swing-out door and rear barn doors over a drop down tailgate that employs a revolutionary EZ-Latch system on the upper pins.

 




Dejana Landscape Truck Upfits

The Dejana landscapers, Stakeless Landscaper, and VersaRack bodies are designed to meet the toughest standards, while at the same time provide the most versatile and easily accessible body available.

 




Reading Platform / Landscape Trucks

Reading Truck Body now offers a complete line of vocational work trucks for construction, landscape and nursery/lawn care contractors such as their Platform/Stake Body.

Why Shop for your Truck or Van at Salerno Duane?
Top 5 Reasons
Over 30 Years of Ford Van Sales & Service Experience
Free Commercial Truck and Van Loaners during Service Appointments
Priority Pricing and Service for all Commercial Customers
Commercial Ford Vans Built to your Specifications
Talk to a Commercial Van Sales Representative 24/7 and 365 days a Year


Landscape Truck Finder
Tell us what your landscaper needs are and we will locate and configure the perfect truck for your business.