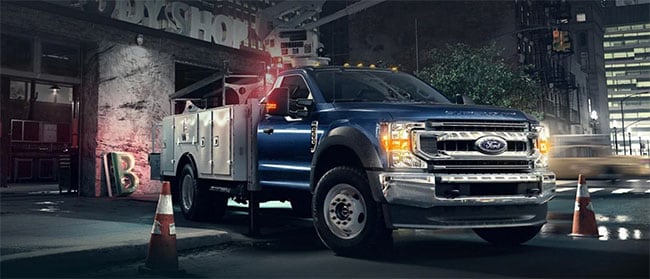 Our Ford Chassis Cab Inventory Our Commercial Truck Specialists Get Credit Approval
2023 Ford Chassis Cab Super Duty in Summit NJ
Built to work, the full-size 2023 Ford Chassis Cab is available in 3 trim levels, XL, XLT and Lariat. Customized to work for you, the F-350, F-450 and F-550 Chassis Cabs offer a variety of cabin and cargo space including Regular Cab, Super Cab and Crew Cab - as well as offering single- or dual-rear-wheels and two- or four-wheel drive.
With a steel frame as its foundation, the 2023 Ford Chassis Cab F-350 is engineered to easily handle the strenuous tasks of heavy hauling and towing that the Super duty Chassis Cab handles every day. Designed to help minimize flexing and twisting while maximizing strength and torsional stiffness, the Super Duty frame is the foundation of its Built Ford Tough® capability.
The Ford Chassis Cab F-450 features steel C-channel rails and crossmember that are up to 6.7-mm thick with a yield strength of 36,000 psi. Available with Single-Rear-Wheels (SRW) or Dual-Real-Wheels (DRW), traction control on Super Duty dual-rear-wheel chassis cab models uses the engine-only traction control to reduce wheel-spin by reducing throttle output.
Every aspect of the Ford F-550 revolves around its durability under harsher conditions than you would normally experience. We tested it, and we tested it again - the Ford chassis will deliver with confidence. Go ahead and test it.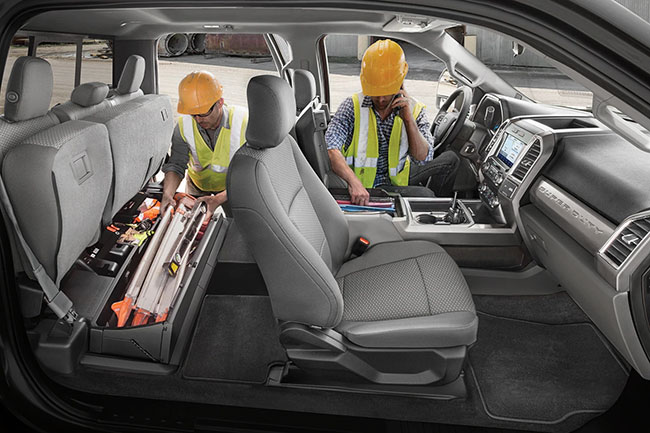 Performance that lives up to the Super Duty name.
A Super Duty frame requires a Super Duty engine that delivers the performance, fuel efficiency and dependability you need to tackle your workload every day. Whether you choose the available 6.7L Power Stroke V8 Turbo Diesel engine or the standard 6.2L Gas V8 engine, you get reliable, clean-burning power in the Ford Chassis Cab F-350, F-450 or F-550.
The 6.2L SOHC Flex Fuel V8 engine, standard in the Super Duty F-350, delivers the power and fuel economy you need for Class 2-3 applications. The 6.2L V8 runs on unleaded gasoline, E85 (85 percent ethanol, 15 percent gasoline), or any mix of the two. For power conversion to compressed natural gas (CNG) or liquid propane gas (LPG), Ford offers the flexibility of the CNG/LPG Gaseous Engine Prep Package, available for select models.
If a diesel engine is what you're after, the 300-hp 6.7L Power Stroke V8 Turbo Diesel Engine offers excellent fuel efficiency to go with all that power. And with instant-start glow plugs, you're sure to get quick start-ups even at extremely low temperatures. Integrated into the transmission of the diesel engine is the available class-exclusive Live Drive Power Takeoff (PTO), allowing you to Up-fit your Ford Chassis Cab truck at the shop faster and with fewer headaches. Both engines are matched to the Ford-built TorqShift® 6-Speed SelectShift® automatic transmission.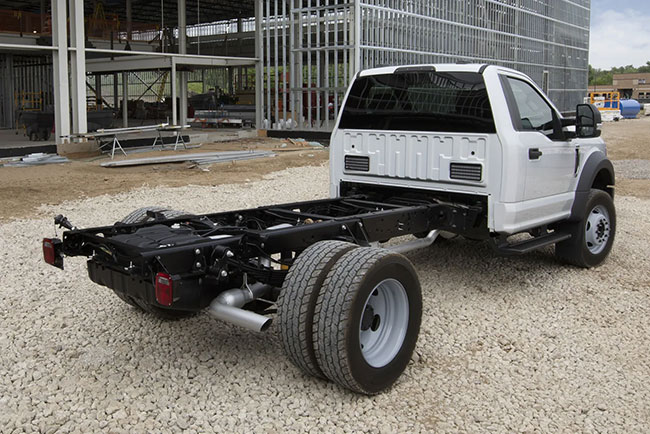 Customize Your 2023 Ford Chassis Cab
Customize your 2023 Ford Chassis Cab with optional features for your specific application, and no matter how you up-fit it, your Ford Chassis Cab will provide you with the performance and dependability you expect.
Examples of custom up-fits include:
If you're looking to mix function and durability with the style of your chassis cab, available Up-fit equipment with allow you to obtain custom fabricated ruggedness with automotive finish quality. Once you've selected your upfit options to customize your Chassis Cab, it's time to personalize it with graphics from your business and have it installed at your local dealership.
If your business can benefit from the use of a Ford Chassis Cab, head to Salerno Duane Commercial Trucks in Summit NJ and start saving time & money today!