Diesel 2017 F-150 Spotted: Is an Available F-150 Diesel Model Could Be Coming to NJ?
It seems that Ford is trying to keep up with the competition when it comes to its smaller-sized trucks being available in a diesel engine. The Ram 1500 is available in their EcoDiesel version, so why not the Ford F-150? LeftLaneNews.com has apparently spotted just that: a diesel prototype of the F-150 that could soon be an available model at Salerno Duane Ford!
In late 2015, Ford fans believed they had spotted a diesel F-150 prototype, but their photos lacked the proof that only the growl of a diesel engine can provide. Diesel exhaust tips sparked speculation in truck lovers about whether this could be a diesel F-150 prototype. However, now that LeftLaneNews.com has released their video on YouTube, it's pretty clear that this truck is packing a diesel engine beneath the hood. Even its partial camouflage couldn't hide the sound this truck made when running!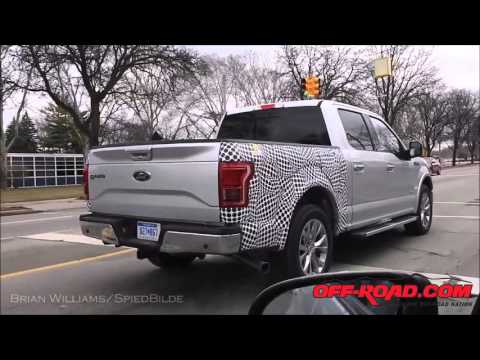 The Diesel F-150
The diesel truck that was spotted features a modern body on the F-150, further sparking ideas that Ford is testing this engine out on the newer F-150s. The folks at LeftLaneNews.com were able to follow this supposedly 2017 F-150 diesel from stoplight to stoplight, all the while listening to the diesel engine purr and the exhaust, which is right next to the camera in some shots, makes the diesel sound impossible not to hear.
There has been a decent amount of speculation that Ford would develop a diesel powered F-150 that would use a Jaguar-LandRover 3.0L V6 diesel, capable of making around 250 HP and 443 lb-ft of TQ. These theories have some wondering considering that Ford has other diesel power plants that are already in use, such as the Ford Transit 250's 3.2L diesel. Regardless, there has been a lot more chatter around the possibility of using the 3.0L displacement. – AM's Blog
The truck will have competition no doubt, but Ford is one of the best manufacturers of trucks in the world. People who love their Super Duty and the diesel options they have will also love having that same power and noise in the classic F-150s. Although Ford took some effort to cover up this prototype—even putting an EcoBoost badge on the side of the truck—the diesel purr is unmistakable in the video and we're thinking Ford is getting ready to launch an F-150 diesel!
The Legacy of Ford
People have long anticipated a possible diesel F-150—and with all the impressive things the Ford Motor Company is doing lately, if a diesel F-150 does come out, it will set the bar high for the competition. Ford has been incorporating aluminum components into its trucks, and even has a total aluminum body on its new 2017 Super Duty, therefore increasing max payload and towing and hauling numbers.
Also helping the F-150's diesel case is that its motor is likely tied up to a 10-speed automatic transmission, as on the F-150 Raptor. The gearbox, along with the F-150's much-ballyhooed weight-loss regime, could give it fuel efficiency numbers that crest 32 mpg. – Truck Trend
Although the F-150 got a redesign in 2015, that doesn't mean that Ford isn't working to put a diesel engine under the hood of these popular trucks. Get ready to say hello to a diesel option in your favorite vehicle: Ford's classic F-150.
When you're ready to love everything about your F-150 in a diesel engine, visit us at Salerno Duane Ford in Summit, New Jersey. Although we haven't confirmed Ford's diesel half-ton truck yet, the speculation has been ended—Ford is working to bring you a diesel F-150 in the near future!