Ford previewed the 2015 Ford Edge concept at the LA Auto Show, however, nothing was really stated about specs like engines, transmissions or fuel efficiency. Still, it was aimed towards getting the public's opinion and focused on technology, and was a success at doing so! The showroom release date isn't certain for the 2015 Ford Edge in Summit, NJ, but individuals in the industry suspect it will be in late 2014. So, what do we know we can expect from the 2015 Ford Edge.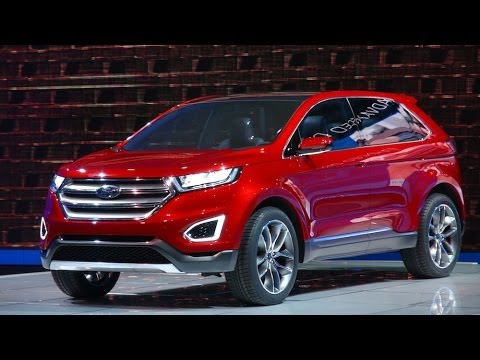 Your 2015 Ford Edge will park itself in NJ.
For starters, the 2015 Ford Edge will include a self-parking feature that's sensor based, and activated by the push of a button on the inside or even by remote on the outside. Yes, you read that right. The 2015 Ford Edge will be able to park itself, even in tight spaces, parallel or perpendicular parking.
Anything can happen in New Jersey.
In addition to the way cool self-parking feature, Ford is also working on an advanced obstacle avoidance system. So not only will the system warn of slower objects in the Edge's lane, or of a sudden pedestrian in your path, but the system will also take action by taking control of the steering and braking if the driver doesn't. Hopefully that's a feature that will be seen on the 2015 Ford Edge, because it's pretty neat, crafty and useful to say the least.
2015 Ford Edge in Summit, NJ; classy, sleek and fancy.
As for appearance, the 2015 Ford Edge concept's exterior features have been modified, let's say a little more than a little. Goodbye door handles, hello re-designed LED headlights, swept back front grille, and ribbon like taillights. Don't worry, the 2015 Ford Edge's interior will look just as sharp with premium leather and copper accents, plus a 10 inch touchscreen display.
Going Global
Like the 2015 Ford Mustang, the 2015 Ford Edge is planned to sell overseas for the first time, especially targeted in China, Europe, and South America. Since first appearing in 2007, the Ford Edge has become extremely popular and Ford has decided to sell it overseas. Because of this, the 2015 Ford Edge's technology and design will be taken up a notch to impress drivers all over the world. Oh, and an added bonus is the boosted fuel economy without sacrificing the style or estimated power, because the concept features a push to start button, and the grille has active shutters and air curtains.
Stay Tuned!
Since not much is not known about the 2015 Ford Edge yet minus some awesome technology features and its appearance, and it's keeping us on the edge of our seats, stay tuned with us at Salerno Duane Ford in Summit, NJ to learn more details about the 2015 Ford Edge as we find them out ourselves!
Source: http://www.tflcar.com/2013/11/la-auto-show-2015-ford-edge-concept-future-technology-showcase/